Mum's daily walks in memory of son, Jack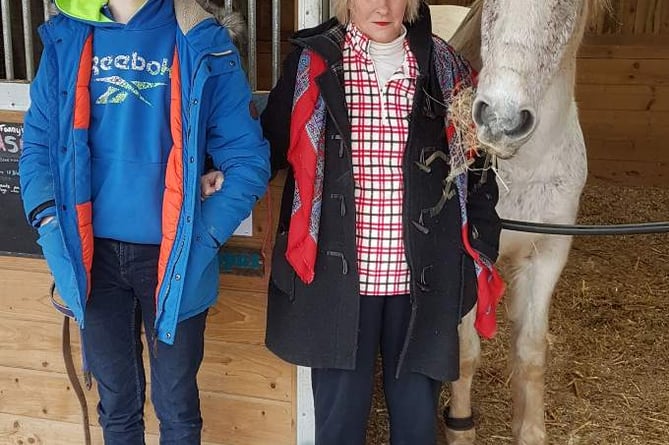 Sarah Morgan and her younger son, Alex, with Chapas
Subscribe newsletter
Subscribe to our email and get updates right in your inbox.
A grieving mum has pledged to walk for 30 minutes every day in February to raise money for an animal sanctuary which proved a lifeline for her autistic teenage son, Jack, during the last years of his life.
Sarah Morgan of Wallingford Road, Kingsbridge says the Dartington-based Sirona Therapeutic Horsemanship helped Jack enormously with his emotional development.
Jack fell in love with the horses there, and formed a specially close bond with one, called Chapas. In fact Jack loved the centre so much, he called it his second home.
Now Sarah wants to give something back to the charity which meant so much to her eldest son, to thank staff for everything they did for Jack during the last six years of his life.
Jack died following a seizure in March last year, at the age of 19.
Sarah said: "Since Jack's death I have struggled with my mental health and hope that by walking in the beautiful South Hams countryside I can start to heal.
"This February I have pledged to walk for 30 minutes every day, regardless of the weather - hopefully we will be blessed with gorgeous blue sky sunshine days and no rain, hail or snow."
Sirona provides therapeutic and educational equine-based activities to disadvantaged and disabled young people with the aim of increasing wellbeing and boosting mental and physical health.
Sarah said: "Jack attended Sirona for the last six years to aid with his emotional development and to deal with those pesky teenage hormones which, combined with autism, make a heady brew.
"Like many autistic people, Jack bonded very deeply with the Sirona herd, especially Chapas who he regarded as 'his horse'.
"They bonded on a very deep level; Jack adored this horse and had to say hello to him at every session, regardless of whether he was working with him or not.
"Chapas was very wary of humans following his terrible life in Spain but he allowed Jack to become one of the favoured few who he trusted enough to go anywhere near his face."
Sarah explained: "Before attending Sirona, Jack would run rather than walk, have major meltdowns and, if in a rage, could actually hurt someone. 
"But by working with the horses Jack learnt that if he was quiet and gentle then he could get to do so much more with them. 
"The trained staff got Jack to transfer the gentleness he had with the horses to dealing with humans. 
"This did calm Jack down to the extent that he would walk most of the time, but he was still liable to explode if annoyed! 
"Jack loved going to Sirona and during the first lockdown, when life just stopped, Sirona was the one thing that kept going and I was truly grateful.
"Not only did Jack get an hour with his beloved horses, but I had an hour to myself to walk in the grounds of the beautiful Dartington Estate. 
"Sirona was a very important part of Jack's life so the least I can do is to give something back to them to help other young people who so badly need their help. 
"I had aimed to raise £150 but I smashed that target in three days so now the target is £500."
Comments
To leave a comment you need to create an account. |
All comments 0