Town Council releases hospital site sale plans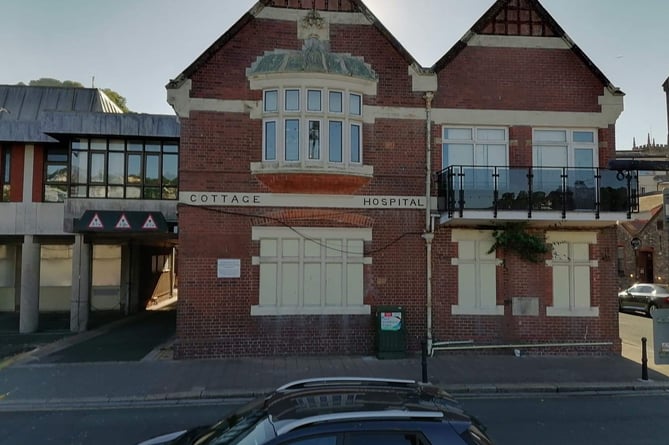 Subscribe newsletter
Subscribe to our email and get updates right in your inbox.
AFTER months of speculation it's been announced that Dartmouth's old hospital is to be turned into a five-star boutique hotel - and the town council is purchasing the site's freehold in an "innovative solution" which they said will make an income of social benefit to the town.
Dartmouth Town Council released the information this week.
The council said it is has agreed "heads of terms" to purchase the former hospital site from Torbay and South Devon NHS Foundation Trust after a working group explored how Dartmouth could benefit from the sale.
They said: "After a competitive process the best proposal came from two local developers with extensive national and international experience in large hospitality projects who are prepared to put their own money into a project which benefits Dartmouth in multiple ways."
A working group was formed last year, under the leadership of Cllr Ged Yardy, to explore how Dartmouth could benefit from the sale of the old hospital site.
The council said local people were asked for their views on the social benefit they thought most important. Responses showed a preference for affordable housing for Dartmothians in need, particularly young families and key workers. The working group contacted Central Government, Devon County Council, South Hams District Council and many other organisations who were unable to help. They also approached many social housing providers to purchase the site for affordable housing - none considered it viable due to limited size, location and high site value.
They said: "An innovative solution was required if Dartmouth was to achieve best social value from the sale. The working group decided to explore the possibility of a commercial partnership with Dartmouth Town Council and a developer to fund the acquisition and development of the site.
"Through an innovative lease back scheme, the developer of the site has funded the town council's purchase of the site's freehold in exchange for a long lease. As part of this agreement the developer has agreed to provide social value to Dartmouth in the form of a substantial contribution to be used for social purposes. Ongoing income from the ground rent of the site and this revenue will be ringfenced to be used for social benefit.
"The development plans for a 35 to 4-room five-star boutique hotel, will preserve the façade of the old hospital. Plans also include a signature restaurant and bar as well as a spa, all of which will be open to the public and attract more footfall into the town centre. This new addition to Dartmouth's hospitality offering will provide at least 30 new jobs, many of which will also come with staff accommodation. It is estimated that, once up and running, the new waterside hotel would generate £1 to £1.5 million in additional trade annually, based on recent tourism studies."
Cllr Ged Yardy, of Dartmouth Town Council, said "It's a huge relief that the town council can now go public with details of the proposed development and the exciting vision for its future. In addition to providing employment opportunities for local people this fantastic project will attract more visitors and therefore more business to Dartmouth. We have also been able to ensure that the wishes of the town will be respected and that the site will fund affordable accommodation for the local community which is much needed."
Simultaneously, but separately to the negotiations with the developer and with Torbay and South Devon NHS Foundation Trust, the town council has entered into an agreement with a local charity experienced in providing social housing. The town council will transfer all funds and future income it receives from the developer, less directly incurred costs, to the charity. The charity agrees to use these funds to provide affordable housing in Dartmouth and hardship grants to Dartmothians in need, in accordance with the charity's governing rules.
The news released this week met mixed reactions from residents and businesses.
Cllr Jonathan Hawkins, of South Hams and Devon County Councils, said: "I'm pleased the town council has announced their plans for this valuable and important site. A large amount of work has gone into this, and I know it has been far from easy. I hope a special meeting will be called where a full presentation can be made to residents."
Simon Rushton said: "There are aspects of what Dartmouth Town Council has done that deserve praise. For instance, the freehold of the whole site is going to be the town's. What is disappointing is that the site is going to be a hotel. That's not what the community asked for or expected. So, in that sense 'defeat is snatched from the jaws of victory'.
"The arbitrary (not voted for) decision to gift all proceeds to a charity without any specific binding commitments as to when, where, or how, it will use the town's money amazes me. A much better option would have been to go ahead with (the voted for) option to establish a Community Land Trust with priorities that necessarily align with those of the community."
Sir Richard Ibbotson, Chairman for Torbay and South Devon NHS Foundation Trust, said: "We recognise the former hospital is dear to local people's hearts and occupies a prime waterfront site. We wanted to make sure local people benefit from any development of the site and we're delighted we've been able to support Dartmouth Town Council to purchase the site."
Liz Davenport, Chief Executive of the Trust, added: "We'd like to thank Dartmouth Town Council, and in particular Cllr Ged Yardy, for their dedication and commitment to working with us. We'd also like to thank the people of Dartmouth and surrounding areas for sharing their views with us."
Anthony Mangnall MP said he thought the new arrangement would benefit residents by creating jobs and opportunities, as well as encouraging further investment into the town.
Comments
To leave a comment you need to create an account. |
All comments 0